The variety of fish which live in the River Thames has been highlighted by an Environment Agency fisheries survey along the river.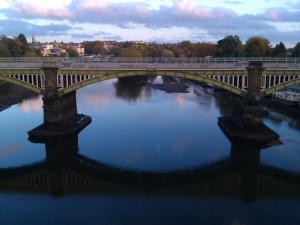 The survey found dace, smelt and common bream, as well as marine species such as sea bass and flounder. A variety of invertebrates, which are an important food source, and some rare and unexpected fish, such as pogges were also discovered.
Specialist fisheries teams surveyed fish populations at 8 locations on the tidal Thames, between Gravesend and Richmond, and identified 17 different species in total. Fisheries teams have been collecting fisheries data from the tidal Thames since the 1960s, and the information is used to get a picture of the health of the river and protect fish.
Environment Agency River Thames surveys are supported by volunteers from Zoological Society of London (ZSL). The volunteers joined fisheries officers as they carried out the work, which involved netting off small sections of the river and counting the amount of fish in each section.
Peter Gray, Environment Agency Fisheries Officer, said:
The surveys provide a valuable snap shot of what species are living in the river. This year we have seen 17 different types of fish in including a really good mix of freshwater and marine juveniles that use the estuary as a valuable nursery area.
Joe Pecorelli, Citizen Science Project Manager at ZSL, said:
ZSL works with hundreds of citizen science volunteers across the capital to monitor our rivers and take practical action to improve them. The contribution of volunteers has been invaluable to ZSL being able to conserve wildlife in the Thames. Data from their surveys has enabled us to better protect species such as the European eel, allowing us to identify barriers to their migration and build eel passes.
ZSL's conservation efforts are greatly benefited by the Environment Agency's support and willingness to work in partnership. Helping with this fish survey provided an opportunity for experts in the Agency to impart new skills and knowledge to our team of volunteers. Thanks to this partnership, the volunteers have become an even greater asset to ZSL's mission to make the capital's rivers a better place for wildlife and people.