Environmental groups campaigning for the early construction of the Thames Tideway Tunnel to remove millions of tonnes of untreated sewage that enters the river every year have given a warm welcome to the news that the last remaining legal hurdle has been crossed with the rejections of the two outstanding judicial reviews lodged by objectors to the project.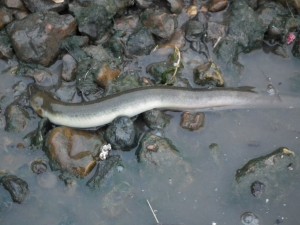 Last week, at the Court of Appeal, the two remaining applications for a Judicial Review of the Development Consent Order process for the Thames Tideway Tunnel, were heard by Mr Justice Sales. The judge conclusively rejected the two applications by Mr Graham Stevens and a group called 'Thames Blue Green Economy' fronted by Lady Dido Berkley. There is now no legal route available for the applications to proceed further and construction on the long awaited project is expected to begin in 2017.
The Tideway Tunnel team, whilst obviously pleased with the decisions, made no public comment other to state in a message to local authorities:
"After a long and exhaustive process to reach this position, the project team can now focus 100 per cent on bringing the tunnel scheme to fruition. We look forward to continuing to work with you to achieve this."
However, representatives of the river and environmental groups that make up the Thames Tunnel Now coalition were more than happy to acknowledge the comprehensive rejection of the judicial reviews which they always felt were without foundation and were simply a device deployed by opponents to attempt to derail the project.
Debbie Leach, Chief Executive of the Waterways charity Thames 21 and chair of Thames Tunnel Now said: "This is more great news for everyone who cares about having a cleaner Thames here in the heart of London. We all depend on the water in our rivers and need to protect it whenever we can – this project means that we can look forward to a River Thames we can be truly proud of, that we can use and enjoy safely and with confidence and where fish and wildlife can thrive."
Gordon Scorer, Chief Executive of London Wildlife Trust added: "The Courts have consistently made the right decisions for the River Thames and Londoners. We need a sewage system fit for the 21st century, a system that no longer fouls the Thames, damaging the river's fragile ecosystem and threatening the health of all who use it."
Tim Webb of RSPB South East said: "The Thames is tainted by sewage whenever London's drains struggle. Leaping this judicial hurdle will allow it to become an asset worthy of our world class city. Water is life and clean river water brings a lot more life on and beneath its surface as well as at its edges. We and the courts have chosen life."