Last week, as well as welcoming the re-appointment of Richard Benyon as Fisheries Minister, the Angling Trust reached out across the political divide and organised a briefing for the new Minister for the Environment, Food and Rural Affairs Tom Harris. Martin Salter, Dr Alan Butterworth and Mark Owen from the Trust were joined by colleagues from Thames Anglers Conservancy (TAC) and Get Hooked on Fishing (GHoF) when they took Tom to visit a West London angling participation scheme in Ealing and then on to Teddington weir to hear angler's concerns about the implementation of damaging hydropower schemes and problems with predation and invasive species.


Tom Harris catching a golden rudd with Keith Arthur Under the expert guidance of Sky TV's Tight Lines presenter Keith Arthur

Tom was able to catch his first fish since childhood days at Northala Fields. Tom Harris and Sarah Collins of GHoF at Northala Fields Sarah Collins, new CEO of Get Hooked on Fishing said: "Get Hooked on Fishing was delighted to show Tom the potential social and community benefits of angling and how it can be successfully used as a tool to engage or re-engage the hard-to-reach. At GHoF Ealing we will be offering angling as a cradle-to-grave positive activity for all. We were able to explain to Tom how, through our partnership with Ealing Borough Council and other organisations, we are planning to provide volunteering, qualification, coaching, apprenticeship and future employment opportunities for children, young people, their families and local communities."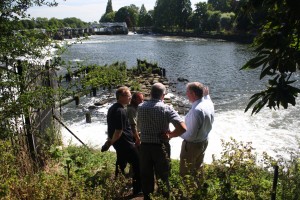 Angling Trust's Dr Alan Butterworth, Dave Harvey and Richard Crimp (TAC) brief Tom Harris on the problems of hydropower in lowland rivers

Speaking with Tom at Teddington weir, Angling Trust rivers expert Dr Alan Butterworth said: "Hydropower schemes on our lowland rivers will never produce a significant amount of electricity yet will cause great harm to the aquatic environment, especially to fish populations, whilst attracting unsustainable high subsidies paid for by all consumers."

Dave Harvey, Chairman of TAC added: "We were pleased to get the opportunity to take Tom to the historic weir pool at Teddington and explain our grave fears over the future. We explained that few people look below the water and consider what long-term ecological damage may be caused for a tiny amount of electricity. The Environment Agency had promised long-term monitoring of the scheme at Romney Weir, but it is still to be commissioned some 10 years on from concept. They now are ploughing ahead with multiple schemes with unknown consequences bar profits for the developers and revenue for the EA themselves."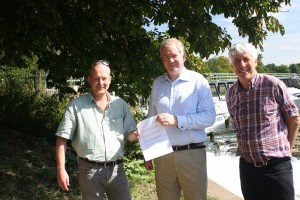 Later on in the visit, Martin Salter and Mark Owen briefed Tom Harris on invasive non-native species and in particular the annual cost to the economy and the need for the government to take action to limit the spread of invasive species via ship's ballast.

Angling Trust Freshwater and Environment campaign manager Mark Owen said: "Latest estimates show a staggering £1.3bn cost to England alone due to the rising costs to fisheries of signal crayfish, Canadian pond weed, mitten crabs and other species. The Angling Trust, have asked Tom Harris to press the government to urgently ratify the International Convention to control ship's ballast water to stop more coming in and to tighten our legislation so that we have the proper powers to control and eradicate these threats to our waters. We are also hopeful that Tom will give his backing to our 'Action on Cormorant campaign to protect our fish stocks from unsustainable predation."

Tom Harris MP said: "The Angling Trust organised an enjoyable and highly informative visit for me. Britain is a nation of anglers and Labour remains committed to making sure that the sport flourishes. Angling is one of the few sports that can be enjoyed by all ages and by people of all abilities. Anglers have a keen interest in, and a concern for, our natural environment and ministers can only benefit from listening to anglers' views and benefiting from their experiences."