The River Crane in Middlesex has been restocked with thousands of fish as it continues its recovery from 2 serious pollution incidents.
The Environment Agency, working as part of the Crane Valley Partnership which includes the Thames Anglers Conservancy  to restore the river's vitality following major sewage spills in 2011 and 2013, released 2000 chub, 2000 dace, 2000 roach and 1500 barbel into the river on Wednesday 3 December.
They were introduced downstream of Staines Road, North Feltham and were supplied from the Environment Agency's own Calverton Fish Farm where they were bred.
It is the first in a new 4-year fish stocking programme, funded by Thames Water, to help return the Crane back to a thriving waterway teeming with a diversity of fish and other wildlife.
Environment Agency Fisheries Technical Officer Neil Winter oversaw the operation. He said: Two major pollution events in 2 years had a devastating impact on large sections of the river's ecosystem, including its fish population.
Thanks to the combined effort of many organisations and individuals however, the river has already recovered to the point where water quality and food sources, such as invertebrates, can sustain fish once more.
Some fish have already migrated into the previously depopulated areas from other parts of the river, but this is a slow process.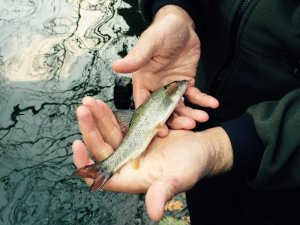 We want to gently accelerate the increase in fish numbers, so are giving nature a helping hand by adding species commonly found in the Crane and surrounding rivers. We are doing this in a carefully phased way, so that we do not destabilise the river's recovering, but still fragile, ecosystem. Not only does the fish stocking boost the river's biodiversity, it will also return the river to a valuable recreational angling resource for the local community
The new 4-year restocking programme replaces one put in place after the first pollution incident in 2011. That was caused by an illegal discharge of untreated sewage for which Thames Water was prosecuted and fined, but also made a voluntary £400,000 donation to the restoration effort.
A first successful restocking took place in December 2012, but the benefits of this were wiped out when treated sewage sludge flowed into the river as a result of criminal damage to a pipe carrying the sludge between Thames Water's sewage treatment plants in Iver and Mogden. Despite extensive efforts the culprits for this damage could not be identified.
Work to restore the Crane has been ongoing since that setback, led by the Crane Valley Partnership with the funding from Thames Water.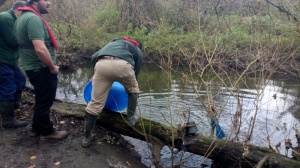 Richard Aylard, External Affairs and Sustainability Director at Thames Water, said:
No amount of money can make up for the damage caused to a river by a pollution incident, but our financial contribution is funding important work that will help restore and improve the river over time.
We're really pleased that some excellent projects have been put forward to the Crane Valley Partnership by local organisations and we look forward to seeing the results.